4/24/2017
David, We are very impressed with the DB 11's performance......& being Porsche fans for so long, it's hard for us to say that or to let go of our loyalty to Stuttgart. We are equally impressed with you as an ambassador of the AM brand! Thank you for taking so much time with us yesterday. Both of us appreciate the overall detail you provided. Your knowledge of Aston Martin is, indeed, impressive!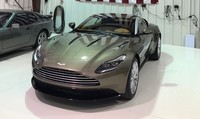 3/17/2017
David Humphrey at St Louis Motorcars made this the most pleasant car buying experience I've ever had.

2/1/2017
We would like to thank you for your recent donation of product, services, and volunteer time. Your support made our benefit held on November 12, 2016 at Friendship Brewing Company in Wentzville a success. All proceeds raised at the benefit will be donated to Backstoppers Inc. Thank you as always for your generosity Dave!

2/1/2017
Dave, I can't say enough about how you handled the issues that I had with my Evora. You kept me apprised of the situation weekly–even if there was nothing to report. You were totally honest with me during the whole process. You truly cared about satisfying the customer. In this case, me. You constantly thanked me for my patience. There were two main factors that contributed tot that. the time of year, and mostly, the way you handled the whole situation. Hopefully, the next time I see you is when I bring my car in for service, I am passing through and I stop in to say hi, or I am taking delivery of a new 400. Because of you, I would never consider doing business with any other dealership!

2/1/2017
David, I find your "stable" emails with vehicle listings the most professional and thorough I have ever seen, and as a high end collector I see a lot! Also your personal professionalism and follow up is extremely impressive–you achieve the perfect balance of persistence and responsiveness, not crossing the line to pushy or intrusive. This has been my experience and I haven't even bought a car from you, yet! 🙂

2/1/2017
David, Please feel free to share with anyone the high esteem in which I hold you and your dealership. My experience has been extraordinary and I often relate to others the way you handled our transaction, from photo-shopping a $300,000 car into my driveway, and then putting it there for real. And the courtesies you extended to my wife's uncle and family who drove up to your shop in their 10 year old minivan to check on the car for me, has not been forgotten by me or them.

2/1/2017
Graham, I wanted to extend sincere thanks to you for the delivery of our Flying Spur this year. The Mulliner package in dual Beluga really turns heads. We had the car delivered to LAX for the outset of our Christmas vacation. We stayed at the Peninsula in Beverly Hills where the car remained parked by the front door whenever we were not driving it. It really turned heads ~ I saw at least 2 folks pressing their faces against the glass to peer in. Not common in a hotel motorcourt frequented by rolls' and lambo's. One early midweek morning we drove it up I-5 on the newly paved section through Bakersfield. The Spur glided effortlessly at sustained speeds of 100mph across the San Joaquin valley floor, in the crisp winter air (the coldest of this particular california trip). We exited at Lost Hills and took the so called "devils highway" (the 46) west to Paso Robles. That highway has improved markedly in safety from the days when it earned its namesake and our crossing was both uneventful and gorgeous as the car bladed over hills, and forded valleys through sun and shadow cast by fallow almond groves. The scenery greened as drove westward and connected to the 101, then the 68. We arrived in Carmel a short 5.5 hours after leaving Beverly Hills feeling refreshed. I'll leave the car in our garage on Scenic Rd., where we'll drive it intermittently through spring and early Summer .. you're welcome to borrow it during car-week if needed as I should have my G65 here by then. the G wagon is just visiting in the US for a short time. Please let me know if you receive anything interesting after the summer that we might either trade-up or switch over to. I always need a 4 seat car for the family so would love to know if they come out with a 'speed' version of the W12 spur or something else that's cool. That 4 seat Bugatti would be excellent, or a Mulsanne with a 700hp engine.. ; ) Heartfelt thanks for making these experiences possible for me. I wish you the very best for the new year ~ health and happiness to you and your family.